An experiment on a bird in the air pump
dimanche 13 mars 2016
par
MmesS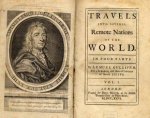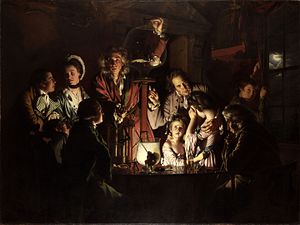 Artist : Joseph Wright 'of Derby' Artist dates : 1734 - 1797 Full title : An Experiment on a Bird in the Air Pump, 1768 Oil on canvas Dimensions183 x 244 cm
Generally regarded as one of the masterpieces of British art, Joseph Wright of Derby's An Experiment on a Bird in the Air Pump (1768) demonstrates the close connection between art and science in the Age of Enlightenment. Wright (1734 – 1797) trained as a portrait painter in London, but spent most of his life in his native Derby, with short periods working in Liverpool, Italy and Bath. He painted portraits, landscapes and 'candlelit scenes', exhibiting in London throughout his career. He established his reputation through scenes which reflect the scientific interests of his circle of patrons and friends in the Midlands, most notably the Air Pump, which he treats here in his characteristic dramatic and keenly observed style, and in the reverential form of a history painting.
A travelling scientist is shown demonstrating the formation of a vacuum by withdrawing air from a flask containing a white cockatoo, though common birds like sparrows would normally have been used. Air pumps were developed in the 17th century and were relatively familiar by Wright's day. The artist's subject is not scientific invention, but a human drama in a night-time setting.
The bird will die if the demonstrator continues to deprive it of oxygen, and Wright leaves us in doubt as to whether or not the cockatoo will be reprieved. The painting reveals a wide range of individual reactions, from the frightened children, through the reflective philosopher, the excited interest of the youth on the left, to the indifferent young lovers concerned only with each other.
The figures are dramatically lit by a single candle, while in the window the moon appears. On the table in front of the candle is a glass containing a skull.

Listen to an audio description here.


Read an article about this painting written by Michael Glover Friday (14 October 2011) in the Independant