The Handmaid's Tale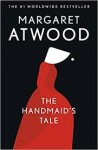 Social Stratification as Key to the Dystopian World
https://blogs.commons.georgetown.ed...
Posted on April 25, 2018 by Brooke Claflin
After watching excerpts from the movie version of The Time Machine, I began to wonder at our own conceptions of the future because the movie was clearly impacted by our more modern conception of how the world will change. In recent novels, especially young adult literature, dystopians have been a major feature. It seems that the reimagining of the various ways in which our world may regress has been static at least in one aspect : our attraction to it. Many of these dystopians feature a world in which some attribute is used to separate everyone into groups ; for instance, in The Divergent series everyone is separated into factions based on an aptitude test and in The Hunger Games series everyone is separated into districts based on birth alone. These two series, although in many ways very different from The Time Machine, do share the common sentiment that human social stratification results in the dystopian future. Divergent and The Hunger Games do not explicitly explain the problems of their worlds as the consequences of class separation, but they both feature main characters set upon breaking down social boundaries. Overall, the human obsession with the dystopian future and its relation to class separations suggest that H. G. Wells touched upon a worry almost inherent to human society— how will our own self-inflicted separations and idiosyncrasies of society result in our downfall.
Articles publiés dans cette rubrique