Dystopia in the school library... and elsewhere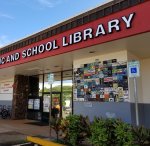 As part of your assignment to be confronted with more dystopian works, or references to dystopia and the link with their author's contemporary times, you will present a work around dystopia.
You will review what you have read, listened to, watched... ; explaining (spoiling just a little, for teasing purposes...), saying why you chose that particular work, what you thought of it, and if you would recommend it to your classmates. A link with the worries of the author's times is welcome, if it is possible.
Here are a few references you can pick from for inspiration :
books or magazine articles you can in the school library :

in the dark


the handmaid's tale (in French)


magazine article 'maudits mots'


article on a dystopian novel by Naomi Alderman
Banksy's work Dismaland
In newspapers :
articles from The Guardian :


German sci-fi fans lap up dystopian tales of Brexit Britain


George Orwell's dystopia is with us today


Dystopian fiction tells a pretty everyday story for many women


Who stands between you and AI dystopia ? These Google activists
article in The independent


What does our future look like according to dystopian fiction ?


The Wall by John Lanchester, review : A dystopian novel that is almost unbearably timely


Years and Years review : Emma Thompson is brilliant in dystopian BBC drama
series : any episode from


the handmaid's tale


black mirror
music


The Bugles : living in the plastic age


Radiohead - 2+2=5


David Bowie - Cygnet Committee