artists and works mentioned in class

John WilliamWaterhouse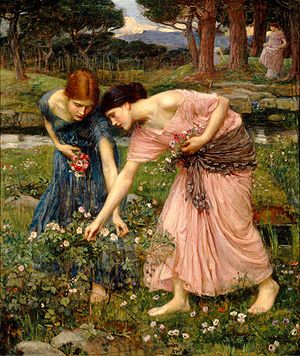 Hogarth : Mariage à-la-mode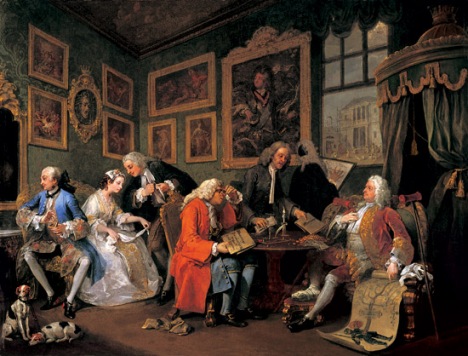 Tate Gallery, London
Read information here
William Hogarth is most famous for his paintings on 'modern moral subjects', but it was the engravings of these images that gained him fame, as he could reach more people through the reproducible print. His 'take no prisoners' approach held up a moralizing mirror to eighteenth century Britain where no social group or class was safe from his witty critique. His paintings and prints reveal that popular culture displays of hedonism are far from being a twentieth century invention.
Hogarth's work was so popular that his work was plagiarized constantly,. Booksellers openly made cheap copies to sell and returned his originals unsold. This prompted him to lobby for the Copyright Act of 1735 as protection for writers and artists, which when passed was referred to as the "Hogarth Act".
His work was really not that new in the context of moralizing tales and satire. Contemporary eighteenth century book shops were full of these types of tales. Jonathan Swift, had written his famous satire, Gulliver's Travels in 1726, almost twenty years prior to Hogarth's Marriage a-la Mode series. What was made Hogarth's work so popular was that his story was told visually, through pictures that referenced his viewer's familiar popular visual culture. His form was so original that a new name was used to describe them- cartoon. Hogarth is often described as the father of the modern editorial cartoon.
http://www.tate.org.uk/whats-on/tat...
Listen to this presentation of the first painting :
http://www.nationalgallery.org.uk/n...
Watch this video about the 6-painting series
Find here the document used in class to study the video :