4 extracts from the novel
mercredi 30 décembre 2015
par
MmesS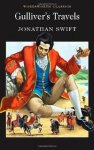 What does Swift satirize in these passages ?
Source : [1]

Extract 1
PART I CHAPTER IV Gulliver meets Reldresal, the Principal secretary of Foreign Affairs, who tells him the political story of Lilliput. He explains to him the reason why the two empires of Lilliput and Blefuscu have been at war for a long time because of an edict by the King's father on how to break an egg...
It began upon the following occasion. It is allowed on all hands, that the primitive way of breaking eggs, before we eat them, was upon the larger end ; but his present majesty's grandfather, while he was a boy, going to eat an egg, and breaking it according to the ancient practice, happened to cut one of his fingers. Whereupon the emperor his father published an edict, commanding all his subjects, upon great penalties, to break the smaller end of their eggs. The people so highly resented this law, that our histories tell us, there have been six rebellions raised on that account ; wherein one emperor lost his life, and another his crown. These civil commotions were constantly fomented by the monarchs of Blefuscu ; and when they were quelled, the exiles always fled for refuge to that empire. It is computed that eleven thousand persons have at several times suffered death, rather than submit to break their eggs at the smaller end. Many hundred large volumes have been published upon this controversy : but the books of the Big-endians have been long forbidden, and the whole party rendered incapable by law of holding employments. During the course of these troubles, the emperors of Blefuscu did frequently expostulate by their ambassadors, accusing us of making a schism in religion, by offending against a fundamental doctrine of our great prophet Lustrog, in the fifty-fourth chapter of the Blundecral (which is their Alcoran). This, however, is thought to be a mere strain upon the text ; for the words are these : 'that all true believers break their eggs at the convenient end.' And which is the convenient end, seems, in my humble opinion to be left to every man's conscience, or at least in the power of the chief magistrate to determine. Now, the Big-endian exiles have found so much credit in the emperor of Blefuscu's court, and so much private assistance and encouragement from their party here at home, that a bloody war has been carried on between the two empires for six-and-thirty moons, with various success ; during which time we have lost forty capital ships, and a much a greater number of smaller vessels, together with thirty thousand of our best seamen and soldiers ; and the damage received by the enemy is reckoned to be somewhat greater than ours. However, they have now equipped a numerous fleet, and are just preparing to make a descent upon us ; and his imperial majesty, placing great confidence in your valour and strength, has commanded me to lay this account of his affairs before you."
I desired the secretary to present my humble duty to the emperor ; and to let him know, "that I thought it would not become me, who was a foreigner, to interfere with parties ; but I was ready, with the hazard of my life, to defend his person and state against all invaders".

Extract 2
PART II CHAPTER VI
Gulliver spends much time with the King and tells him the history of the United Kingdom from its geography to its politics, religious belief to royalty, customs to judiciary system. Here are the King's reactions...
When I had put an end to these long discources, his majesty, in a sixth audience, consulting his notes, proposed many doubts, queries, and objections, upon every article [...] He was perfectly astonished with the historical account gave him of our affairs during the last century ; protesting "it was only a heap of conspiracies, rebellions, murders, massacres, revolutions, banishments, the very worst effects that avarice, faction, hypocrisy, perfidiousness, cruelty, rage, madness, hatred, envy, lust, malice, and ambition, could produce". His majesty, in another audience, was at the pains to recapitulate the sum of all I had spoken ; compared the questions he made with the answers I had given ; then taking me into his hands, and stroking me gently, delivered himself in these words, which I shall never forget, nor the manner he spoke them in : "My little friend Grildrig (Gulliver's nickname), you have made a most admirable panegyric upon your country ; you have clearly proved, that ignorance, idleness, and vice, are the proper ingredients for qualifying a legislator ; that laws are best explained, interpreted, and applied, by those whose interest and abilities lie in perverting, confounding, and eluding them. I observe among you some lines of an institution, which, in its original, might have been tolerable, but these half erased, and the rest wholly blurred and blotted by corruptions. It does not appear, from all you have said, how any one perfection is required toward the procurement of any one station among you ; much less, that men are ennobled on account of their virtue ; that priests are advanced for their piety or learning ; soldiers, for their conduct or valour ; judges, for their integrity ; senators, for the love of their country ; or counsellors for their wisdom. As for yourself," continued the king, "who have spent the greatest part of your life in travelling, I am well disposed to hope you may hitherto have escaped many vices of your country. But by what I have gathered from your own relation, and the answers I have with much pains wrung and extorted from you, I cannot but conclude the bulk of your natives to be the most pernicious race of little odious vermin that nature ever suffered to crawl upon the surface of the earth."

Extract 3
PART III CHAPTER V
Gulliver visits the Academy and is shown several scientific experiments in action...
This academy is not an entire single building, but a continuation of several houses on both sides of a street, which growing waste, was purchased and applied to that use. I was received very kindly by the warden, and went for many days to the academy. Every room has in it one or more projectors ; and I believe I could not be in fewer than five hundred rooms. The first man I saw was of a meagre aspect, with sooty hands and face, his hair and beard long, ragged, and singed in several places. His clothes, shirt, and skin, were all of the same colour. He has been eight years upon a project for extracting sunbeams out of cucumbers, which were to be put in phials hermetically sealed, and let out to warm the air in raw inclement summers. He told me, he did not doubt, that, in eight years more, he should be able to supply the governor's gardens with sunshine, at a reasonable rate : but he complained that his stock was low, and entreated me "to give him something as an encouragement to ingenuity, especially since this had been a very dear season for cucumbers." I made him a small present, for my lord had furnished me with money on purpose, because he knew their practice of begging from all who go to see them [...] I saw another at work to calcine ice into gunpowder ; who likewise showed me a treatise he had written concerning the malleability of fire, which he intended to publish. There was a most ingenious architect, who had contrived a new method for building houses, by beginning at the roof, and working downward to the foundation ; which he justified to me, by the like practice of those two prudent insects, the bee and the spider. There was a man born blind, who had several apprentices in his own condition : their employment was to mix colours for painters, which their master taught them to distinguish by feeling and smelling. It was indeed my misfortune to find them at that time not very perfect in their lessons, and the professor himself happened to be generally mistaken. This artist is much encouraged and esteemed by the whole fraternity [...] I was at the mathematical school, where the master taught his pupils after a method scarce imaginable to us in Europe. The proposition, and demonstration, were fairly written on a thin wafer, with ink composed of a cephalic tincture. This, the student was to swallow upon a fasting stomach, and for three days following, eat nothing but bread and water. As the wafer digested, the tincture mounted to his brain, bearing the proposition along with it. But the success has not hitherto been answerable, partly by some error in the quantum or composition, and partly by the perverseness of lads, to whom this bolus is so nauseous, that they generally steal aside, and discharge it upwards, before it can operate ; neither have they been yet persuaded to use so long an abstinence, as the prescription requires.

Extract 4
PART IV
CHAPTER I
After a mutiny, Gulliver is left by his sailors on an unknown land, where he meets strange hideous creatures, on which he says in chapter II : "My horror and astonishment are not to be described, when I observed in this abominable animal, a perfect human figure".
In this desolate condition I advanced forward, and soon got upon firm ground, where I sat down on a bank to rest myself, and consider what I had best do [...] I fell into a beaten road, where I saw many tracts of human feet, and some of cows, but most of horses. At last I beheld several animals in a field, and one or two of the same kind sitting in trees. Their shape was very singular and deformed, which a little discomposed me, so that I lay down behind a thicket to observe them better. Some of them coming forward near the place where I lay, gave me an opportunity of distinctly marking their form. Their heads and breasts were covered with a thick hair, some frizzled, and others lank ; they had beards like goats, and a long ridge of hair down their backs, and the fore parts of their legs and feet ; but the rest of their bodies was bare, so that I might see their skins, which were of a brown buff colour. They had no tails, nor any hair at all on their buttocks, except about the anus, which, I presume, nature had placed there to defend them as they sat on the ground, for this posture they used, as well as lying down, and often stood on their hind feet. They climbed high trees as nimbly as a squirrel, for they had strong extended claws before and behind, terminating in sharp points, and hooked. They would often spring, and bound, and leap, with prodigious agility. The females were not so large as the males ; they had long lank hair on their heads, but none on their faces, nor any thing more than a sort of down on the rest of their bodies, except about the anus and pudenda. The dugs hung between their fore feet, and often reached almost to the ground as they walked. The hair of bothsexes was of several colours, brown, red, black, and yellow. Upon the whole, I never beheld, in all my travels, so disagreeable an animal, or one against which I naturally conceived so strong an antipathy. So that, thinking I had seen enough, full of contempt and aversion, I got up, and pursued the beaten road, hoping it might direct me to the cabin of some Indian. I had not got far, when I met one of these creatures full in my way, and coming up directly to me. The ugly monster, when he saw me, distorted several ways, every feature of his visage, and stared, as at an object he had never seen before ; then approaching nearer, lifted up his fore-paw, whether out of curiosity or mischief I could not tell ; but I drew my hanger, and gave him a good blow with the flat side of it, for I durst not strike with the edge, fearing the inhabitants might be provoked against me, if they should come to know that I had killed or maimed any of their cattle. When the beast felt the smart, he drew back, and roared so loud, that a herd of at least forty came flocking about me from the next field, howling and making odious faces ; but I ran to the body of a tree, and leaning my back against it, kept them off by waving my hanger. Several of this cursed brood, getting hold of the branches behind, leaped up into the tree, whence they began to discharge their excrements on my head ; however, I escaped pretty well by sticking close to the stem of the tree, but was almost stifled with the filth, which fell about me on every side.

Creative writing :
Choose a target (a person, an event, an aspect of the country you live in…) and write a satirical paragraph.